Determining Fault in a Colorado Car Accident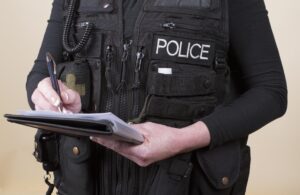 In many cases, proving fault is key to collecting compensation after an accident in Colorado. Your ability to recover damages from the other driver's insurance company will likely depend on who was at fault in your car accident. Sometimes fault is obvious. Other times, it's questionable. What do you do when you aren't sure who is at fault for your car accident? What happens if you are at fault in a car accident?
Unless it is crystal clear that you are the one responsible for causing the crash, it's important to speak to an experienced Colorado car accident lawyer. If you are unsure who was at fault, don't assume you can't recover damages until you talk to a lawyer! The attorneys at McDivitt Law Firm can examine all aspects of your accident to clearly establish who is at fault and we can protect your legal rights to compensation throughout the legal process.
Every case is different and it's important to discuss the specifics of your situation with an attorney if you want real answers about liability and fault, but we do have some general guidelines that could help you understand fault.

---
Colorado is an "At-Fault" State
In 2003, Colorado changed from a "no fault" car insurance state to a tort system or "at fault" state. Under the original no fault rule, drivers turned to their own insurance policies to collect compensation after a car accident, regardless who was to blame for the accident. Only once your injuries reached a certain threshold could you make a claim against the at-fault driver. Now, drivers are allowed to file claims against the responsible parties without waiting to reach a threshold.
Accident victims in Colorado are allowed to seek compensation in one of three ways after an accident:
By filing a claim with their own insurance company if the at-fault driver is uninsured or underinsured
By filing a claim against the at-fault driver's insurance carrier
By filing a personal injury lawsuit against the responsible driver
Colorado follows the modified comparative negligence legal theory. This means that if you are less than 50% responsible for the accident, you are allowed to seek compensation for your injuries. However, the amount of the damages you are eligible to receive will be reduced by the percentage of your own responsibility for the accident. If you are determined to be at least 50% responsible for the accident, however, then you are not allowed to receive compensation.
For instance, if a jury finds that an injured party was speeding prior to being hit by a drunk driver, they may determine that the injured party was 10% responsible for the accident and their own injuries. If the jury determines that the injured party suffered $100,000 worth of damages, the net verdict would only award the injured party $90,000, which is 10% less than the amount of damages suffered.

---
No-Doubt Liability
You've probably heard that authorities and insurance companies always assign fault to the driver who rear-ends another, and that is typically the case. This is known as "no-doubt liability." Yet, rear-end accidents aren't the only accidents that are assigned no-doubt liability. Here are a few other examples:
Backing-Up Drivers

– Drivers who are backing up are usually at-fault for crashes regardless of circumstances.

Red-Light Runners

– Drivers who run red lights are usually at-fault in auto accidents.

Left-Hand Turns

– Drivers who are making left-hand turns in front of drivers going the opposite direction are usually at-fault in the auto accident.

Impaired Drivers

– Drivers who are impaired by drugs or alcohol are usually assigned fault in an auto accident.
When a driver breaks basic traffic laws or is texting or impaired in any way, it increases the chances that the driver will be determined liable in the car crash.
This is important to note: Even though you may have done something in the list above at the time of the crash, if your conduct isn't the reason the crash happened you may not actually be considered to be the "at fault" driver. This is why it's important to call a lawyer.
Contributory Negligence
When law enforcement responds to a car crash, officers typically investigate and interview everyone involved along with any bystanders who witnessed the crash. Based on their investigation, officers may assign a percentage of fault to each party. As long as you are found to be less than 50 percent "at fault" for the auto accident, you might be able to recover a portion of your damages. However, the determination of what percentage of fault must be attached to each party will be determined by a jury if your case isn't settled. 
What If I Am at Fault for the Car Accident?
If you are found to be at fault for the auto accident, your insurance company will typically pay for the other party's injuries and damage done to their vehicle. Depending on your insurance policy, your insurance company may also pay to have your vehicle repaired and your medical expenses may be reimbursed. Full-coverage collision insurance is not required by Colorado state law, but can be purchased in addition to the liability insurance that is mandated. If you lease your car or if you are still making payments, then the bank will have likely required you to purchase collision insurance.  
A Quick Note About Insurance:
If you are unsure about your insurance coverage, request a copy of your insurance policy and discuss it with your auto accident attorney when you come in for your free consultation. Your attorney will be able to help determine who the responsible parties are and what your insurance policies will or will not cover. If you believe that your insurance company is acting in bad faith and not upholding their end of the agreement, it's vital that you contact an attorney immediately.
---
How is Fault Determined in a Car Accident?
After an accident, it's important to clearly establish fault. This is often done in a variety of ways, including:
Police report

– You must file a police report in Colorado after an accident, according to Colorado law. This can be done by calling 911 and waiting for the responding officer to arrive. You can also file a report online after the accident. The police report will play an important role in establishing fault after an accident because the police's official version will be considered more seriously than the verbal testimony of those involved in the accident.

Pictures taken

– Pictures that are taken at the accident scene can also shed light on who is at fault after an auto accident. Pictures of surroundings, the position of the vehicles, and other evidence can be invaluable to your case.

Eyewitness testimony

– People who witnessed the auto accident can also shed light on what occurred in the moments before the crash. This can help your attorney when trying to establish who is to blame for the crash and can be useful when disproving other drivers' claims.

Accident Recreation

/Reconstruction– Sometimes it is necessary for your attorney to recreate the accident scene to clearly establish liability in a case. To do this, your attorney may hire accident reconstruction experts that will use evidence and science to prove who is at fault for the crash.
If You're Injured
Your ongoing medical bills, lost wages, and damages could be substantial. Even if you believe you are at fault for the car accident, speak to an experienced car accident lawyer. There may be other circumstances surrounding your case that could reduce your liability. Your attorney will need to investigate your accident closely to help establish who is at fault for the accident, so that you can recover the maximum amount of compensation you deserve.
---
From the Auto Accident Blog
Browse the latest news & articles from the McDivitt Legal Team
View All Posts