Nicole Gallerani
Workers' Compensation Attorney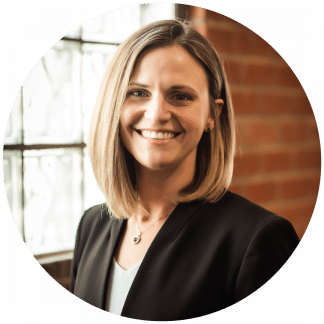 Nicole Gallerani is dedicated to helping people that have been injured at work. As a middle child, Nicole says she spent her childhood arguing her position to her older and younger sisters. At an early age she realized that she was good at arguing and defending her position. Now as an attorney she is comfortable in the courtroom and does what it takes to win. Nicole started practicing law as an environmental lawyer at the EPA but decided she wanted to be working with people and helping those that are injured.
Nicole says McDivitt Law Firm has a team approach with a strong support staff making it easy to support her clients. She started at McDivitt in 2013 and then left briefly to work with two other workers compensation law firms in Colorado. She came back to McDivitt because she says the culture and the environment fit her personality. "At McDivitt, the employees take their job very seriously and try to go above and beyond and do everything they can to help the clients. If a client has an urgent need, from the second they walk in the door, all the team members will do whatever it takes to give them the attention they need." Nicole understands the complexities of workers compensation law and says she likes to guide her clients through a process that can be frustrating so that they can get the medical attention and compensation they deserve.
Nicole did her undergraduate work at Eastern Michigan University and then studied law at Thomas M. Cooley Law School in Auburn Hills, Michigan. She is an avid rock climber and loves the Colorado lifestyle. When she is not working, you can find her, her husband and her dog in the mountains.
---
Education
Thomas M. Cooley Law School, Auburn Hills, Michigan
Juris Doctor, January 2012
Penn State Dickenson Law School, Pennsylvania
Study Abroad, Florence, Italy, May-June 2010
Studied Comparative Law, Comparative Constitutional Law, International Sales Law
Eastern Michigan University, Ypsilanti, Michigan
Bachelor of Arts in Political Science with minor in Environmental Science, December 2007
Experience
Franklin D. Azar & Associates, Workers' Compensation Attorney (Colorado Springs, CO)
Lee & Brown, LLC, Attorney (Denver, CO)
McDivitt Law Firm, Workers Compensation Attorney, Social Security Attorney (Colorado Springs, CO)
Law Offices of David C. Helm, PPLC, Assistant (Plymouth, MI)
U.S. Environmental Protection Agency, Law Clerk (Denver, CO)
U.S. Environmental Protection Agency, Law Clerk (Washington, DC)
Bar Admissions